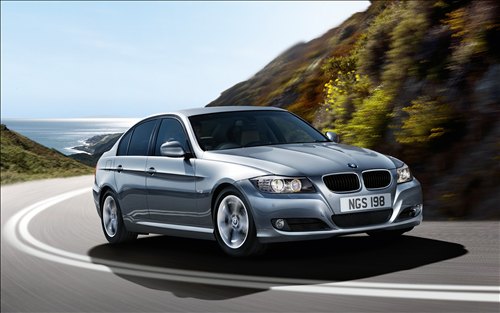 Four-cylinder diesel engine with optimised efficiency and superior performance all in one.
The BMW 320d EfficientDynamics Edition is powered by a four-cylinder diesel engine specifically optimised for even greater fuel economy and emission management and, therefore, for a standard of efficiency never seen before. All this comes from the 2.0-litre four-cylinder power unit with its all-aluminium crankcase, turbocharging and the latest generation of common-rail fuel injection featured with various power stages also in the BMW 316d, the BMW 318d and the BMW 320d. The engine specially conceived for the BMW 320d EfficientDynamics Edition develops maximum output of 120 kW/163 hp at an engine speed of 3,500-4,200 rpm and peak torque of 360 Newton-metres/265 lb-ft all the way from 1,750 to 3,000 rpm.
The engine stands out in particular through its sporting and dynamic power from low revs. The innovative centrifugal-force pendulum incorporated in the two-mass flywheel, together with the longer transmission ratio, serves to significantly reduce the level of engine speed at all road speeds relevant in practice in the BMW 320d EfficientDynamics Edition. The shift in load points beneficial to fuel economy and emissions goes together in this case with full maintenance of the spontaneity and running smoothness so typical of a BMW diesel.